Cartographica 1.5: the next generation of GIS for macOS
ClueTrust is pleased to announce the immediate availability of Cartographica 1.5, the GIS for Macintosh. With significant upgrades under the hood, Cartographica 1.5 is prepared for modern macOS. Enjoy improved file import and export, up-to-date projection management, a new, more straightforward georeferencing tool for images, and more! Sign up for a free trial of Cartographica, or if you've tried Cartographica before, go to our Lost Key page and get a new trial key. We also have detailed Release Notes on the changes in 1.5 and check out our revised Features page to find out what's new.
Introducing more affordable subscription pricing
Cartographica is now available as a subscription, for those with shorter-term projects or who don't want to pay the price for the perpetual license. Details on our blog. Or purchase a perpetual license and choose annual maintenance to keep up-to-date.
About Cartographica
Cartographica is designed for people who need to work with geospatial data to create maps, analyze data, convert between formats, and discover new information about your data and the world in which it exists. As such, we have emphasized easy importation, exploration, analysis, and output in the design of Cartographica and hope that you find it powerful, yet fun to use and easy to explore.
Take a Tour of Cartographica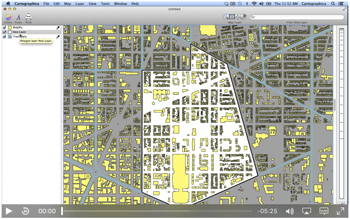 Learn how to take advantage of Cartographica's features. The screencasts are in QuickTime format and are viewable on desktop as well as iOS devices.



View All Screencasts